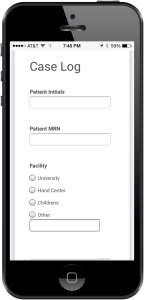 Mobile Device Entry
Log cases directly from your smartphone, tablet, or web browser in a matter of seconds. Utilize quick-actions for your most common procedures.  Select from a list of your hospitals and surgical centers.
---
Case Note Dictation
Dictate techniques, tips, and tricks directly into your mobile device.  Notes are stored with the case for easy reference.
---
Automated Email Reminders
Set automated email reminders for each case.  Receive an email on the designated date with the patient information and your text reminding you to follow-up on the patient's pathology report, review imaging, etc.
---
Generate CPTs and wRVUs
Automatically generate CPT codes and wRVU values for any procedure.  Generate wRVU reports and know how much your procedures reimburse.